Athletics
Welcome to Legacy Athletics...Home of the Lightning!
Click here to see home workouts provided by Children's Hospital.
---
CHSAA's New 2020-2021 Calendar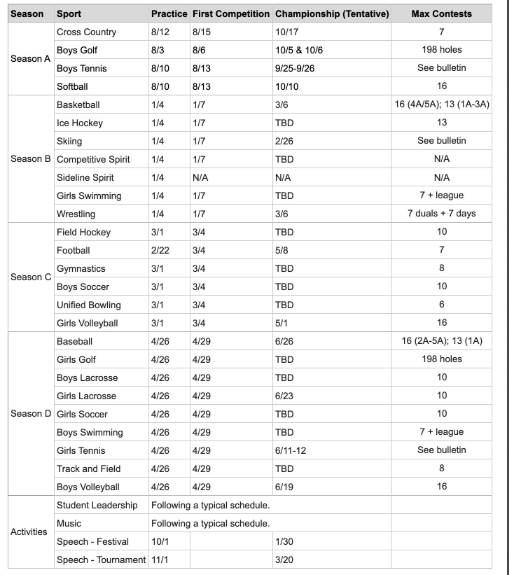 ---
2020 Winter (Season B) Parent and Athlete Night.
In lieu of an in person Season C Sports Parent and Athlete Night, the Head Coaches of each sport approved to play in Season C will conduct their own meetings. All athletes and their parents must attend.  Coaches of Boys Soccer and Girls Volleyball will meet with parents and athletes online.  More information on these events will come directly from the coaches.  Important information for the season will be provided.  Please be forgiving with us as we navigate and interpret the new rules and guidelines.
New information has been shared about the 2020-2021 Athletic Year.
---
---
Athletic Registration
Athletic Registration is an ONLINE only format using the rSchoolToday system.  All high schools in Adams 12 use this system.     
At this time, Season C sports that have been approved by the Colorado High School Activities Association (CHSAA) is ready to begin registration. If you want to participate in a Season C sport (Boys Soccer, Girls Volleyball or Girls Gymnastics) please register.  Registration for all Season C sports will close on Friday March 5th at 4:00pm. 
The link to the online registration is here.  Please click the icon below to get started.
Click Here for HELP with Online Athletic Registration.
TWO VERY IMPORTANT TASKS BEFORE YOU REGISTER!
Athletic Physicals:
Students registering for athletics must have a current physical examination on file in the athletic office before the student is authorized to participate in practice/tryouts. To ensure clearance for participation, physicals should be completed and either turned into the athletic office, or uploaded during the online registration process. If you do not have a scanner, you ARE able to take a picture and upload the picture of the physical. However, if we cannot read any portion of the physical page, we will not clear your athlete for participation.
Physicals are valid for 12 months from date of the last exam.
Free and Reduced Lunch:
If you qualify for Free and Reduced Lunch, or even think you may qualify, you will need to submit your application BEFORE you register.  Free and Reduced Lunch applications are completed online by going to the following link: www.myschoolapps.com. 
After submitting the registration form please click on the PayForIt link under the Quicklinks section of this homepage, in order to pay for activitiy and complete registration.
If you have questions or need assistance with registration, please address it to:                         
---
Arbiter Athlete
All athletes must be set up an Arbiter Athlete account through CHSAA in order to be at tryouts.  Parents are also encouraged to sign up and create an account too.
---
CAP's Physicals
Children's Hospital Colorado and Adams 12 Five Star Schools have teamed up to offer the most comprehensive physicals around. Our goal is to provide every student in Adams 12 Five Star Schools the opportunity to receive a general medical exam, an efficient orthopedic assessment and a thorough cardiovascular evaluation. 
CAP's is not offered at this time due to the Covid situation.
---
Legacy Athletic Twitter 
Follow Legacy Athletics on Titter @LHS_Lightning Athletics  
---
POSITIVE COACHING ALLIANCE
Adams 12 Five Star Schools and Legacy High School are strong proponents and supporters of the Positive Coaching Alliance. Recently, they visited Legacy High School at the volleyball game versus Broomfield High School.  See their latest video here.  Dare To Chill? Re-Think Sports Parent Behavior On The Sidelines
Here is a great video on encouraging the multisport athletes.
Referees are important to the game.  Like us, they will make mistakes.  It is important that we are not the roadblock to their success.  Treat referees and umpires with respect, even if they are not better than you refereeing from the sideline.  Keep ourself in check by watching this video.
---
CHSAA - Thank a Coach Submissions
Use this LINK through the CHSAANOW website to send a thank you message to a coach who is making a difference.  As we continue to support a positive athletic environment and culture at Legacy, one way we can do this is take a moment to thank a coach.  CHSAA would like more and more submissions about coaches who are making a positive difference in the lives of our student athletes.
---
Work for Adams 12 Athletics Department
Adams 12 is looking for students 16 or older to be lifeguards at the VMAC pool.  Click on the flyer here for more information.